AQUA RELIQUIA - WATERLINES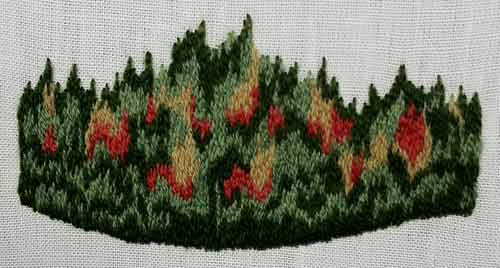 Fall Shoreline
Aqua Reliquia is an ongoing multimedia project by Lynn Harrigan and Scott M2 combining fiber art, poetry, video, and electronic soundscapes inspired by the Great Lakes region.
Aqua Reliquia - Waterlines focuses on water and shorelines.
Sources for Lynn's hand embroidered images are both found and imagined. A variety of processes are used to create a suitable ground for these images, including natural dyeing, eco-printing, and screen printing.
Scott's ambient video piece Waterlines plays with the gently chaotic wave geometries of a Lake Ontario shoreline.
AQUA RELIQUIA - 1913

Lake Huron Shoreline
October 30th to November 10th, 2013
Gallery 1313
1313A Queen St W, Toronto
Aqua Reliquia - 1913 is a meditation on The Great Lakes and The Great Storm of 1913.
Taking place on the one hundredth anniversary of the storm, Aqua Reliquia - 1913 will feature Lynn Harrigan's fiber art and poetry plus the video art of Scott M2 and electronic soundscapes by dreamSTATE.
Please follow Lynn's Aqua Reliquia Facebook page or her Tumblr page for insights, details and updates on the installation, the Lakes, and the history of The Great Storm of 1913 aka The White Hurricane - which sank 19 ships and killed over 240 people on the Great Lakes at its peak.
The Opening reception for Aqua Reliquia will take place on Saturday, November 2, 2013 at Gallery 1313 - 1313A Queen St. W., Toronto, 4–7pm and will feature a live performance by dreamSTATE.
There will be a closing event on November 9th, one hundred years after the peak of the storm, featuring a dramatically different concert by dreamSTATE.

Lake Huron Shipwreck 1913
EVIDENCE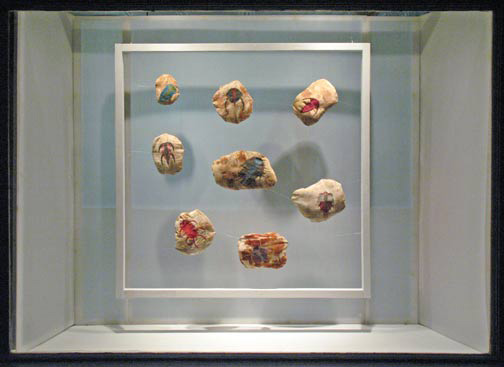 Evidence - hand-embroidered trilobites on eco-printed silk and wool
July 31st to Sept. 2nd, 2011
Roadside Attractions gallery
911 Davenport Road, Toronto Canada.
Many Creationists have a powerful need to cleave to a literal reading of the Bible. They have concluded that, since the universe was purportedly created in a single week, fossil evidence of the evolution of life is actually an elaborate trick designed by God to test their faith. Scientific proof of a past before recorded history is trumped by their longing for a future beyond death. Their creative interpretation of the world has evolved from a need for certainty expounded by literal interpretations of the Word. Fascinated with the strange and beautiful variations of evidence that have survived over millions of years, the artist also takes liberties with truth, colouring her perceptions to assuage her own desires.
Evidence presents a series of three-dimensional trilobite fossils suspended in time and space. Each trilobite is hand-embroidered on eco-printed silk and wool which is then sewn into the shape of rocks. Just as imagination requires the suspension of disbelief, faith in the beauty of truth is embodied by this suspended Evidence.
ARADUS VARIATIONS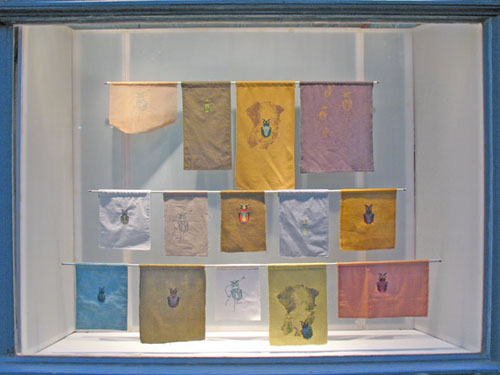 Aradus Variations - embroidered flat bugs on hand-dyed silk & screen printing
August 1st-31st, 2010
Roadside Attractions gallery
911 Davenport Road, Toronto Canada.
Aradus Variations presents a species of the flat bug family that is native to the Great Lakes region, the Aradus robustus. The robustus feeds on fungi found under the bark of dead oak trees and logs. This explains their incredibly flattened bodies. Hand embroidered, each variation becomes a canvas for moods and feelings evoked by the Great Lakes. Cotton prints and tussah silk coloured with natural dyestuffs create the ground for these stitched flat bugs. Screen printed patterns and images add another design element. In this way, colour, line and texture transform the region's ecosystem into a sensuous exploration of place and timelessness.
Aradus Variations (2010) is a part of Aqua Reliquia, a multi-media installation that combines poetry, textiles, and soundscapes to evoke the character of the Great Lakes region. The project was inspired by stories about the Great Storm of 1913, the worst natural disaster to ever occur on the Great Lakes, and has led to an obsession with all aspects of the region.
RAIN OF FIRE

May 12th to June 6th 2010
Gallery 1313 Windowbox Gallery
Gallery 1313 - 1313A Queen St W, Toronto
Rain of Fire is a new multimedia collaboration between Lynn Harrigan and Scott M2 that combines embroidery, poetry and video painting to address the vulnerability of so many during these times of rapid economic change. Created as part of their developing Oblique Poetries series, the piece reflects the emotions of people trapped by the economic collapse of recent times and the false promises of the global new world order. Left exposed and unprotected, there is no solace in the gospels of greed.
Rain of Fire marks the first installment of Intersections, a three part series curated by Simone Rojas-Pick and Jessica Nagy, centered around the concept of the "mash-up"; where two or more voices/mediums/styles are combined to create a single work. Intersections is the first phase of the Launch Pad Project for Gallery 1313's Window Box, featuring 5 emerging curators, running from May 2010 to April 2011.
Gallery 1313 - 1313A Queen Street West, Toronto, ON M6K 1L8, (416) 536-6778
Hours of Operation: Wednesday - Sunday, 1:00 pm - 6:00 pm
Opening Reception: Thursday, May 13, 7:00—10: 00 p.m.
CROSSING - CLOUD PAINTING #4

Hand stitched fiberscapes with ambient video and soundscape
December 13th, 2008
The Theatre Centre
1087 Queen Street West, Toronto

Ambient video installation and fiberscapes
A multimedia collaboration between Lynn Harrigan and Scott M2.
Fibers meet electrons in an evolving work of gradual transformation and revelation.
Hand stitched fibrescapes surround an ambient film by Scott M2/Lynn Harrigan and the accompanying soundscape component of the installation was created by dreamSTATE (Scott M2 + Jamie Todd).
MOON SEA CROSSING
(the play)

Moon Sea Crossing illustration by Stefan Valent
July 6th to 15th, 2006
Factory Studio Theatre
125 Bathurst Street , Toronto
One woman, many hungers, many journeys…
Fertile Ground Productions
presents MOON SEA CROSSING
July 6th through 15th, 2006
"With emotions that are echoed by light and language,
Moon Sea Crossing weaves together the plight of the
Irish immigrant, the despair from crushed dreams and
one woman's strength to rise above it all."
Kellie Maltese - eye weekly
Original text by Lynn Harrigan
Adapted for the stage by Angela McMillan and Sarah Schwartz
Directed by Angela McMillan
Starring Sarah Schwartz
Live music by Scott M2 of dreamSTATE
Illustration by Stefan Valent
MOON SEA CROSSING premiers at
The Toronto Fringe Festival 2006
Factory Studio Theatre (Venue 5)
125 Bathurst Street (at Adelaide)
Thu, July 6 @ 8:45 pm - show code: 505
Sat, July 8 @ 6:00 pm - show code: 515
Sun, July 9 @ 12:00 pm - show code: 520
Mon, July 10 @ 11:00 pm - show code: 532
Tue, July 11 @ 1:00 pm - show code: 533
Thu, July 13 @ 7:30 pm - show code: 550
Sat, July 15 @ 5:15 pm - show code: 563
Tickets: $9 at the door
$10 advance ($8 + $2 SC)
Passes: $6.50 - $8
Running Time: 60 Min.
BREAD & WATER

Fishing for Secrets - a diptych created for Lynn's poem Prelude by Linda Wiebe (2004).
August 28 to October 24, 2004
Huron Historic Gaol
181 Victoria Street N. Goderich, Ontario
Bread & Water -
A Multi-media Installation
Exploring One Woman's Journey
Within These Walls
August 28 – October 24, 2004
Huron Historic Gaol,
181 Victoria Street N. Goderich, Ontario
(Phone: 519.524.2686)
Opening Reception: August 27, 2004
The evening performances will involve poetry readings
with live musical accompaniment.
Closing ceremony October 24th, 4:00pm
Bread & Water is a multi-media installation based on MOON SEA CROSSING - a collection of poems by Lynn Harrigan which will be published in 2005 by Black Moss Press. In addition to the poetry, ambient soundscapes by electronic sound artists dreamSTATE, black and white photography by Shannon Kroeplin and paintings and sculpture by Linda Wiebe will be featured in the installation.
The poems tell the story of Aina, an Irish woman who immigrated to Canada with her husband and children in 1846. Aina suffered a breakdown shortly after her arrival in Huron County and was incarcerated at the Gaol before being transferred to the temporary lunacy asylum in Toronto. The poems explore a variety of themes, including mental illness, displacement, hunger, grief and Irish folklore. A series of evening performances and art workshops will be announced closer to the opening date.
Join Lynn's e-mail list to be updated with all the details and to receive an invitation to the opening reception. The evening performances will involve poetry readings with live musical accompaniment.
The music by dreamSTATE from
the Bread & Water installation is
available on their PASSAGE CD.

Click here to hear the music and to purchase it online as CD or soundfiles.
AS IT HAPPENS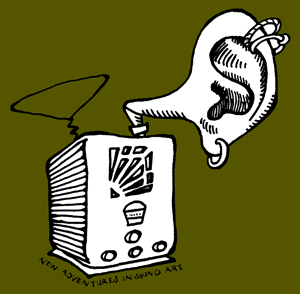 As It Happens by Lynn Harrigan and
ambient soundscape artists dreamSTATE
appears on the Deep Wireless 1 CD of radio art.
Complete information on the CD can be found here.
Play or download an MP3 of As It Happens here.