Plasticine Reading Series @ The Central
with Nashira Dernesch, Lara Bozabalian, Michael Fraser
603 Markham St, Mirvish Village, Toronto
Sunday, October 18, 2009, 6:00pm
Ireland Park with Kieran Furey
Reading from Moon Sea Crossing
Ireland Park at Eireann Quay, Toronto - map
Sunday, June 14, 2009, 2-3p.m
Toronto Small Press Group's Spring Fair
Toronto Reference Library - 789 Yonge St. N. of Bloor
Sat., June 13, 2009, 9am-5pm - Reading Schedule
Plasticine Reading Series @ The Central
with Lara Bozabalian, Micheal Fraser, Beatriz Hausner
603 Markham St, Mirvish Village, Toronto
Sunday, October 19, 2008, 8:00pm
Plasticine Reading Series @ The Central
with Michael Fraser, Truth Is, Kurt Zubatiuk
603 Markham St, Mirvish Village, Toronto
reading from Oblique Poetries with Scott M2
Tuesday, October 23, 2007, 8:00pm
Draft Reading Series @ Labspace Studio
with Ronna Bloom,Susan L. Helwig, Steve McCabe
276 Carlaw Ave., Suite 202, Toronto
reading from Oblique Poetries with Scott M2
Wednesday, October 17, 2007, 8:00pm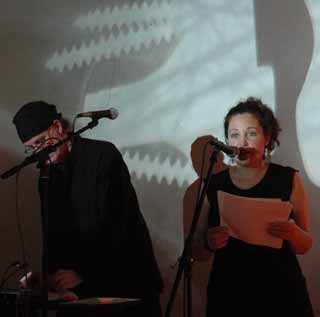 Scott M2 & Lynn at Draft 3.1
Photo by Jamie Todd
THE AMBiENT PiNG @ Hacienda
794 Bathurst St. at Bloor St. W, Toronto
with dreamSTATE and Phil Ogison
Tuesday, March 28th, 2006, 9:00pm
Poetry London 2005-2006 Reading Series
(Patrick Lane and Lynn Harrigan)
Fred Landon Branch Library
167 Wortley Road, London, ON
Wednesday, March 1, 2006, 7:30pm
Eco Art and Media Fest
UnderCurrents magazine launch
Zig-Zag gallery, York University, Toronto
(first floor of the HNES building)
Tuesday, February 28th, 2006
THE AMBiENT PiNG @ Hacienda
794 Bathurst St. at Bloor St. W, Toronto
with dreamSTATE
Tuesday, February 14th, 2006, 9:00pm
Brampton Arts Festival
Beaux Arts Gallery: 74 Main Street N.
Brampton, ON - with dreamSTATE
Saturday, February 11th, 2006, 9:00pm
Art Bar @ the Victory Cafe
581 Markham Street, Toronto
with Scott M2 of dreamSTATE
Tuesday, January 10, 2006, 8:00pm
Variety Crossing: Pathway To Multiculturalism
An evening of Poetry and Prose
U of T Hart House, Music Room
7 Hart House Circle, Toronto
Saturday, November 26th, 2005, 7:00pm
THE AMBiENT PiNG @ Hacienda
794 Bathurst St. at Bloor St. W, Toronto
with dreamSTATE & General Chaos Visuals
Tuesday, November 8, 2005, 9:00pm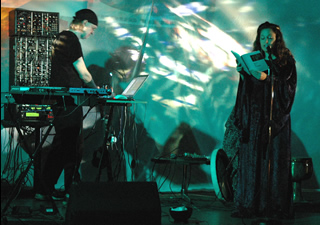 Scott M2 & Lynn at THE AMBiENT PiNG
Photo by Eric Hopper
IV Lounge Reading Series
IV Lounge - 326 Dundas St W., Toronto
(across from the AGO)
Friday October 28, 2005, 8pm
Whipped Sundaes @ the Rivoli
334 Queen St. W., Toronto
Sunday September 25th, 2005, 7pm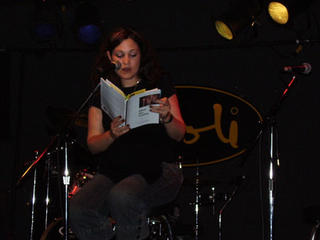 Lynn reads at the Rivoli
Photo by Jennifer Lorraine Fraser
MOON SEA CROSSING Book Launch
@ This Ain't The Rosedale Library
483 Church Street at Wellesley E. Toronto
Saturday September 10, 2005, 7:30pm
HOWL - CIUT Radio (89.5 FM)
Toronto, Ontario
September 4th, 2005 (2-3 pm EST)
THE AMBiENT PiNG @ Hacienda
794 Bathurst St. at Bloor St. W. Toronto
with dreamSTATE
March 2nd, 2005, 9pm

Neighbours Without Walls:
A Celebration of Multiculturalism
Arts and Poetry Festival 2004
St. Andrew Kim Catholic Church Hall
849 Don Mills Rd. Toronto (416) 447-4078)
November 20th 2004, 6 - 10pm - Details
Huron Historic Gaol
Goderich, Ontario - Closing Weekend for
The Bread & Water Multimedia Installation
Reading October 22nd, 2004, 8:30pm
Closing ceremony October 24th, 4:00pm
Huron Historic Gaol
Goderich, Ontario
September 23rd, 2004, 7:30pm
Aina In Memorium
Huron Historic Gaol
Goderich, Ontario
September 9th, 2004, 7:30pm
Toronto Roots Song Celebration
The Historic Distillery District, Toronto
September 4th, 5:00-6:00pm, 2004 - Details
Huron County Historic Gaol
with dreamSTATE and Laura Jean McCann
Goderich, Ontario - Opening Reception for
The Bread & Water Multimedia Installation
August 27th, 2004 - More info at Multimedia Installations.
Wingham Library, North Huron Museum
Wingham, Ontario
July 9 2004 - Details
HOWL - CIUT Radio (89.5 FM)
Toronto, Ontario
June 27th 2004 (2-3 pm EST)
Arts Hall, Korean Consulate General
Toronto, Ontario
June 24, 2004 - Details
Huron County Museum
Goderich, Ontario
February 16th, 2004 - Details
THE AMBiENT PiNG @ C'est What
Toronto, Ontario - with dreamSTATE
December 16th, 2003 - Details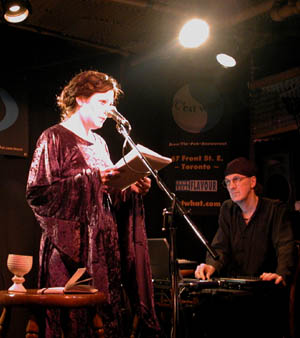 Lynn and Scott M2 of dreamSTATE performing at
THE AMBiENT PiNG series. Photo by Eric Hopper
Blue Angel Art Gallery - Details
Hamilton, Ontario
November 15 2003
Celtic Routes: A Cultural Conference
and Celebration - Harbourfront
Toronto, Ontario
October 2003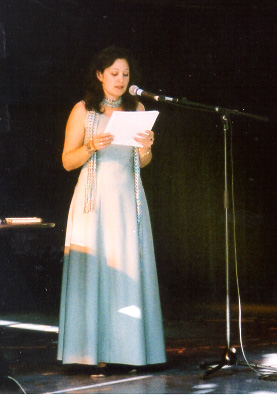 Lynn reads at Harbourfront
Photo by Patty Letourneau
Blue Angel Reading Series
Hamilton, Ontario
September 2003
Regent Park Focus
Toronto, Ontario
August 2003
Poetry On a Summer Breeze
Landon Library
London, Ontario
July 2003
Stratford Library
Stratford, Ontario
June 2003.
Eccentric Bard Poetry Fest
Shakespeare, Ontario
April 2003.
The Livery
Goderich, Ontario
February 2003
Bayfield Town Hall
Bayfield, Ontario
September 2002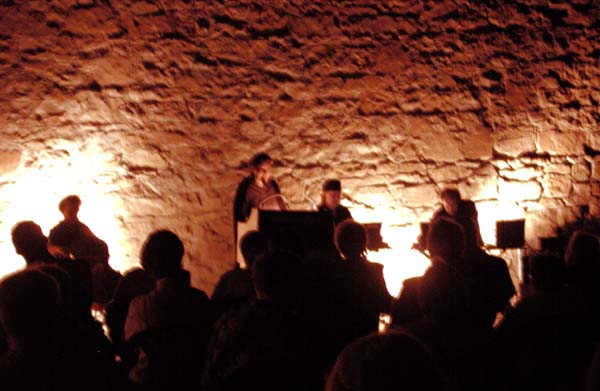 Lynn reads at the opening of the Bread & Water Multimedia Installation August 27th, 2004 in the main courtyard at the Huron District Historic Gaol in Goderich, Ontario, acompanied by cellist Laura Jean and soundscape artists Scott M2 and Jamie Todd of dreamSTATE.
Photo by Mauri Todd