e-SPACE Editions
. . . electronic . . . space . . . recordings . . . multimedia . . .

e-SPACE Editions presents the multimedia works of
Canadian ambient soundscape artists dreamSTATE:
a decade dreaming
dreamSTATE's latest release features soundscapes selected from a decade of live
performances at THE AMBiENT PiNG in honour of the PiNG's 10th Anniversary.
The album features contributions from many of the great artists they have played with
throughout those years: Eric Hopper (Sylken), Alan Bloor (Pholde/Knurl), Jim Field (spacenoiz),
James Johnson, Wally Jericho, cheryl o and Steven Sauvé (karmafarm).

"a decade dreaming is an intense, vivid trip through the duo's history,
filled with energy, art and possibility... it's a CD you must have in your collection."
~ John Shanahan - Hypnagogue
"Listening and experiencing dreamSTATE's music is a trip into the many dimensions and renditions of space,
ranging from the cosmic to the slightly abstract. It sees dreamy and more progressive textural pads shapeshift
and evolve along the way, occasionally with foreboding undercurrents and strange field recordings.
This is adventurous, freeform ambient music meant for close and
deeper listening but most of all an open and receptive mind."
~ Bert Strolenberg - Sonic Immersion
"The overall mood of the 12 tracks is introspective and elegiac, as the disc is dedicated
to two of their synth heroes who had passed on: Canadian musician/radio producer
David Pritchard and Pink Floyd's Richard Wright. They also performed pieces
with these artists in mind, creating the spacious "Soundscape For Richard Wright"
spontaneously with guest (Eric Hopper) at a special event at the Textile Museum.
It sounds like Tangerine Dream expanding on a fragment of Pink Floyd's "Echoes" and is
just one of the many deeply beautiful moments these guys create on a regular basis."
~ Chris Twomey - Tandem
"The music of dreamSTATE is based on beautifully crafted multi dimensional space
ambient floaters with smoothly evolving and shifting progressive textures...
"a decade dreaming" is absolutely exciting and effective listening experience and worthwhile
live document showcasing the talent and potential of The Ambient Ping community."
~ Richard Gürtler - Relaxed Machineries

MOZ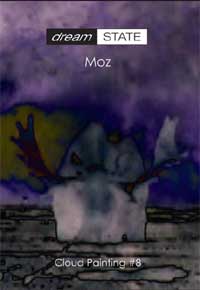 dreamSTATE's DVD Single, Moz - Cloud Painting #8, is a 12 minute ambient film by Scott M2
with a soundtrack, For the Dreaming Dancers, playable in stereo or as a Dolby AC-3 quadrophonic immersive mix.
The Cloud Painting series is intended as video paintings and employs clouds as a medium of slow transformation.
The DVD medium allows dreamSTATE to bring you immersive ambient sound and to explore ambient visuals.

Moz - Cloud Painting #8
is now out-of-print
Please
join the dreamSTATE Update List
( list at dreamSTATE.to )
to be notified if a second edition becomes available.
OM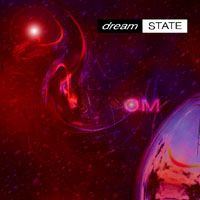 "Scott McGregor Moore and Jamie Todd record deep electronic ambience as dreamSTATE.
They created OM live at Canada's OM Festival in June, 2000. It is exactly as recorded -
straight to D.A.T. with no overdubs. It is an awesome soundscape created in "real time".
It is also an excellent companion to BETWEEN REALITIES, their debut CD, from one of their installation performances.
This is great e-music. It is full of symphonic synth washes, deep riffs, huge atmospheres and experimental sounds.
Those experiments give the disc sci-fi appeal. This superb adventure is also a great meditation experience."
~ Jim Brenholts / EER Music Reviews
PASSAGE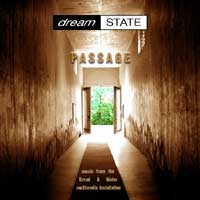 "This work is a moving and profound listening experience the listener will not forget.
It is highly recommended to all lovers of adventurous ambient music and deserves to be a classic!"
~ Dodds Wiley / ambient.us
"As brilliant as it is emotional, PASSAGE is a beautiful work by one of Toronto's premier electronic acts.
Many lesser talents would find themselves lost in such a dark subject matter, but dreamSTATE are able
to convey the scene, the situation and the emotions felt in a succinct and powerful way.
A testimony to their sophistication and artistry, PASSAGE is sure to become a classic of the genre."
~ rik maclean / Ambient Visions
"first-class ambient through and through.... Highly recommended."
~ Phil Derby / Electroambient Space
"This is an excellent CD... PASSAGE elevates itself from being merely a good recording
to being an important artistic statement. I highly recommend this album in either regard."
~ Bill Binkelman / Wind and Wire


Buy PASSAGE online for $9.95 US
Order globally using credit cards through a secure line, cheque or money order and delivered within 5 days.
Shipped from Portland, OR, USA
Buy PASSAGE online now for only $15.00 Canadian using PayPal.
Shipped from Toronto, Canada
PASSAGE is also available as a digital download through over 40 internet companies.
Check at your favourite source. Below are direct links to two popular digital download sources:
Apple iTunes
PayPlay (regular MP3 files, which will work in every computer & in any portable player)
BETWEEN REALITIES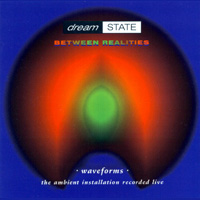 "BETWEEN REALITIES consists of a one-hour slice from a soundscape installation entitled waveforms
that ran continuously for eight months in 1996 and 1997 at The H5 Project holographic gallery in Toronto.
Created using three MiniDisk players on shuffle and loop modes, the sounds produced by dreamSTATE
for this installation were pure, deep ambience as originally defined by pioneer Brian Eno:
Music that merges with the surroundings to create a different listening experience with every listen.
And since it was recorded using an open microphone, sounds from the street and gallery space hum through the mix
and merge with the sounds in the listener's environment, blurring the line between realities - just as the title suggests."
~ Greg Clow / Chart Magazine / Feedback Monitor
"A little over an hour long, dreamSTATE have come up with one of the finest examples of ambient music this year.
In effect, this is one long soundscape in the tradition of David Parsons (Yatra, Himalaya), Steve Roach (any of the longer later solo works),
and possibly old man Eno (Discreet Music). Having said this, let me say that this is as good as any of these recordings,
and taken from a live, long running installation. ... This will appeal to a lot of ambient fans and no doubt,
space music listeners. No dramatics, no groove, no discernible melody. Just classic ambience. Me, I love it."
~ Hans Stoeve / Power Spot
"BETWEEN REALITIES is definitive ambient music. By that I mean it can be used to literally define the term...
Highly recommended for ambient and, in my view, space music fans everywhere."
~ Bill Binkleman / Wind & Wire
"Soft electronic washes phase in and out in an ever-changing state of ebb and flow.
Totally beatless and smooth, the lush chords swirl mistily, merging and remerging into different billowing configurations.
Trickling water sounds run through several passages, as do occasional waves of rippling electro-distortion.
It translates into a dreamy hour-long listen for your own environs."
~ David J. Opdyke / AmbiEntrance