. . . i n f i n i t e a m b i e n t m u s i c a p p s . . .

Neural Apparitions presents the multimedia
apps of Canadian ambient soundscape artists
dreamSTATE

Ephemeral City is dreamSTATE's first
infinite ambient music app for
iPhone, iTouch and iPad.
Every listen to this deep ambient
iAlbum will be a fresh, unique experience.
Buy it now for $3.99 US

If you require assitance with Ephemeral City
or have discovered a bug - please visit our
Support Page and contact us directly to
help us help you. We are technically
unable to respond to comments
left in the App Review section.

Ephemeral City creates a new infinite
arrangement every time it is played,
with ever-changing ambient music plus
urban ambient art by Scott M2.
"I've been listening to dreamSTATE's
Ephemeral City for a few days and
I really love it. The music is gorgeous
and evolves naturally and seamlessly
and the visuals are excellent. I can
thoroughly recommend it as not only
a good app, but a really high quality
music and visual production."
Ashley Elsdon - Palm Sounds



Lose yourself in the endless drift of
the ephemeral, while walking through
your own city, while reading, working,
creating, thinking, relaxing or sleeping.
This iAlbum can also play in the background
while you read your e-mail or e-books
or browse the net.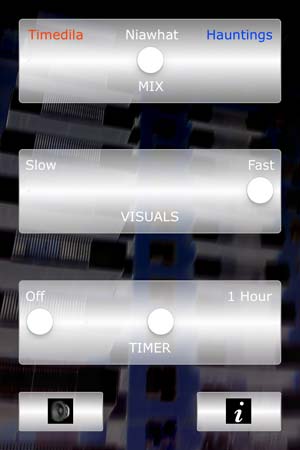 While Ephemeral City weaves a fresh musical
arrangement for you every time, you can
adjust the density of the mix from a rarefied
atmosphere to a full-on flow or from the
dark to the light.
Set the Timer to define the length of the
album. Adjust the speed of the visual
transitions to reveal new conjugate imagery.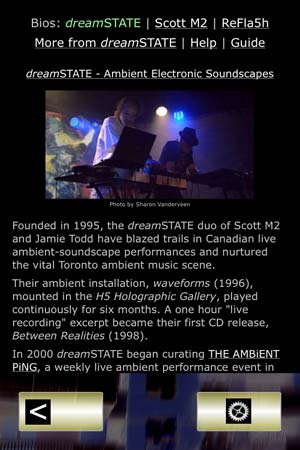 Trailblazing Canadian soundscape artists
dreamSTATE (Scott M2 and Jamie Todd)
created their first evolving ambient
installation in 1996.
Now, with the help of ReFla5h the Apptician,
they've created an infinite multimedia
ambient installation for your iPhone,
iTouch or iPad (with iOS 5.1.1 or higher).
Welcome to a new paradigm for albums -
Experience Ephemeral City now for $3.99 US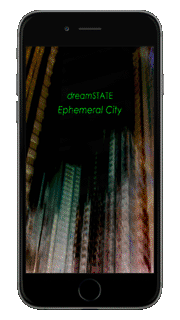 "Listening and experiencing dreamSTATE's
music is a trip into the many dimensions and
renditions of space, ranging from the cosmic
to the slightly abstract. It sees dreamy and
more progressive textural pads shapeshift
and evolve along the way, occasionally with
foreboding undercurrents and strange
field recordings. This is adventurous,
freeform ambient music meant for close
and deeper listening but most of all
an open and receptive mind."
~ Bert Strolenberg - Sonic Immersion
"The music of dreamSTATE is based on
beautifully crafted multi dimensional space
ambient floaters with smoothly evolving
and shifting progressive textures."
~ Richard Gürtler - Relaxed Machineries