Oblique Poetries is the collaborative wordsoundart project
of Lynn Harrigan and Scott M2. Rooted in their poetry -
multi-media projects are in development combining
words, music, paintings, photography, video and fiberart.

/\/\/\/\/\/\/\/\/\/\/\/\/\/\

Lynn Harrigan is a poet, fiber artist and teacher. Her first book of poetry Moon Sea Crossing (Black Moss Press, 2005) was adapted for the stage by Fertile Ground Productions and premiered at the 2006 Toronto Fringe Festival. Lynn has recently been exploring visual modes of poetic expression. Initial experiments with textiles ignited an obsession with embroidery, which soon became the focus of her artistic practice. Current projects include Field Guide to Longing; Aqua Reliquia and Oblique Poetries, a collaboration with Scott M2. Lynn's fiber-art portfollio resides here.
Scott M2 (Scott McGregor Moore) is best known as the founder of ambient soundscape project dreamSTATE and as curator of THE AMBiENT PiNG live music series. Deeply rooted in the concepts of ambient music, Scott has initiated a series of investigations into the possibilities of ambient film and related multimedia to induce a slower, subtler relationship with time and space. Other projects include Muse Concrète photography/multi-media and Oblique Poetries wordsoundart with Lynn.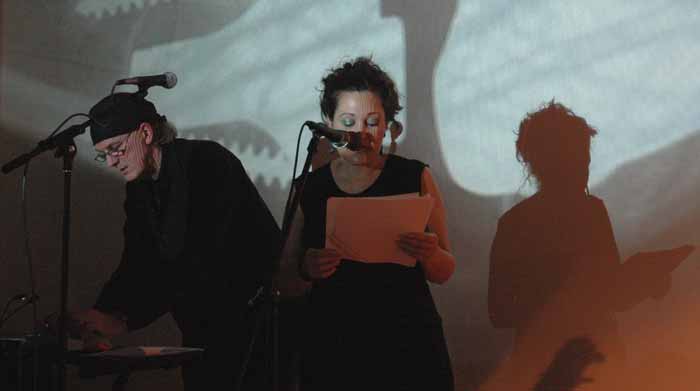 Scott M2 and Lynn Harrigan @ Draft 3.1 - Photo by Jamie Todd


/\/\/\/\/\/\/\/\/\/\/\/\/\/\

Rain of Fire ~ May 12th to June 6th 2010 ~ Gallery 1313
An Oblique Poetries wordsoundart piece, Rain of Fire marks the first installment
of Intersections, a three-part series curated by Simone Rojas-Pick and Jessica Nagy
for the Launch Pad Project for the Gallery 1313 Window Gallery.
1313A Queen St. West, Toronto - Opening Reception: Thursday May 13th, 7-10pm

"Rain of Fire is a new multimedia collaboration between Scott M2 and Lynn Harrigan
that combines poetry, embroidery and ambient video painting to address the vulnerability
of so many during these times of rapid economic change. Created as part of their
developing Oblique Poetries series, the piece reflects the emotions of people trapped by
the economic collapse of recent times and the false promises of the global new world order.
Left exposed and unprotected, there is no solace in the gospels of greed."




/\/\/\/\/\/\/\/\/\/\/\/\/\/\


Spark and Cascade, two pieces from Oblique Poetries
are featured at Stephen Philips' Ambient Poetry.com site.


/\/\/\/\/\/\/\/\/\/\/\/\/\/\


Oblique Poetries Readings: