01. Premonition - 2009 08 18 - Supermarket
(Scott M2 + Jamie Todd)

This piece presents several conundrums:
1) As the album was released on the ping things label in the week before this concert - how was it recorded?
2) Does dreamSTATE employ an expensive Yamaha VTM1 (Virtual Time-Machine) modules?
3) Ten years of concerts at THE AMBiENT PiNG would stretch from 1999 to 2008. Why 2009?

The 10th Anniversary of THE AMBiENT PiNG on August 18th, 2009 also marked our 11th year of
dreamSTATE PiNG performances (and a return to Augusta Ave - only a block from the birth of the PiNG),
so I wanted to include a piece for that event. Since a decade dreaming was being released
by the ping things label just before the the concert - this was tricky business,
as dreamSTATE does not own or rent a Yamaha VTM1 Virtual Time Machine.
The solution I arrived at was to create a new piece that we could play in some form at that show.
The piece, actually titled Monition, contains a long sample from our very first PiNG performance
in August 1999 which I time-stretched (an appropriate concept here) and over which we
played some fresh textures. I thought everything was very together conceptually, but...
On the night of the show Jamie's computer began overloading when we started Monition,
so we had to just say "onwards" and skip right into the next portion of the set.
Monition was finally performed live at the PiNG on April 28th 2011 -
and I'll just keep on taking my irony pills. ~ SM2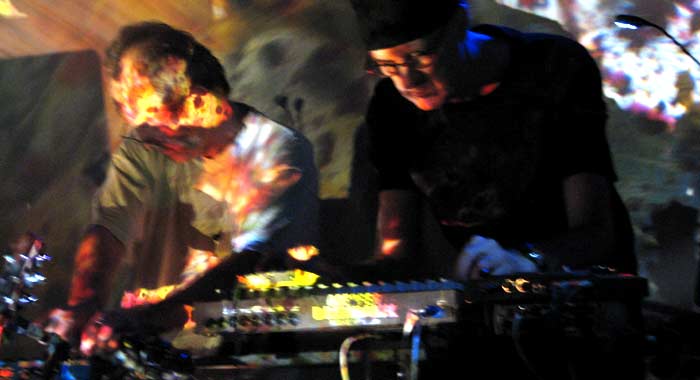 Jamie + Scott at Supermarket 2009 08 18 - photo by Lynn Harrigan