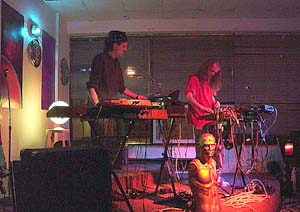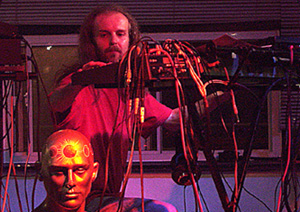 THE AMBiENT PiNG @ Garvey's ~ August 31 1999
Created as a chill-out, hang-out space in August 1999 and featuring regular live performances at volumes that allow conversation - THE AMBiENT PiNG was Toronto's new weekly ambient music event. Fresh artwork for the stage at Garvey's was provided each show by Orbital Arts and after the first week the bar/restaurant owners got the idea and brought in four more couches.
dreamSTATE performed on week three, after nights by Wally Jericho (trumpet, alto sax, MD loops and treatments) and Planet Of The Loops (Andrew Aldridge's floating ensemble of improvising loopers). The vibe was great in the room that night and we ended up playing much longer than our planned two hour set. This was the first dreamSTATE gig using our new Nord Modular synthesizers and they proved to be both reliable and expressive in a live setting. Afterwards, Majestic Twelve, the newly released album by Toronto ambient artist Chris Hutton was featured, followed by Brian Eno's Music For Airports played simultaneously with the newer Bang On A Can version. ~ Scott M2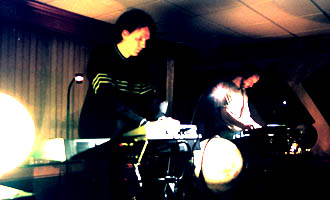 THE AMBiENT PiNG @ Po Boys Club ~ November 30 1999
THE AMBiENT PiNG migrated South on November 30th and was now nested comfortably in its new home at Po Boys Club - 159 Augusta Ave. in Toronto. Performing at the PiNG's opening show for the new club was a treat, as was checking out the Jambalaya special (the PiNG was now above a southern-style cajun restaurant). The expanded micro-brewery beer selection was also appreciated by the band and our true-brew loving fans. Oh yes, the music - Jamie had mapped the expansive controller section on his Korg Prophecy to key elements in his Nord Micro-Modular synth and new levels of dreamSTATE dark ambient intensity were reached several times during the evening. The madness was balanced by a few pastoral looping sections but darkness ruled that night.
After our sets, the two CDs that make up the Fluid: environmental sound modules one through ten album/sound-environment by Subspace were played simultaneously in the club's double CD player as per the artist's instructions - a beautiful ambient experience.
THE AMBiENT PiNG was hosted by organizer/artist/musician Arnold Sprogis until a serious sickness in his family required his time and in January 2000 I began to book and promote the series. Later, in September 2000, Jamie took over the business end of the PiNG and we've been looking after the series ever since. ~ Scott M2
2000 ~ The Drone Cycle 2000 ~ Ted's Wrecking Yard
1999 ~ Feedback Monitor 3rd Anniversary ~ Planet Of The Loops ~ THE AMBiENT PiNG
1998 ~ World Electronic Music Festival ~ Interference Orange
1997 ~ waveforms at The H5 Project ~ Symptom Hall