The Drone Cycle 2000 @ The Ambient Ping - Po Boys Club
The Drone Cycle 2000 was a series of concerts in which dreamSTATE visited one note of the chromatic scale each month of the year as a foundation for ambient improvisations with a rotating cast of special guests. The drone note was not omnipresent and was only implied at times, but was a home and harbour while venturing into unrehearsed experimental ambient improvisations with each guest before a live audience.
The series was hosted by THE AMBiENT PiNG - Toronto's then-weekly live ambient performance event.
Below you'll find some personal impressions of early performances. Comments and photos for the rest of the series are planned to be added later. ~ Scott M2
January 25th, 2000 ~ NIGHT OF THE LIVING DRONES ~ C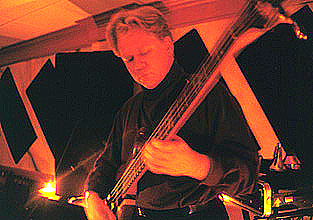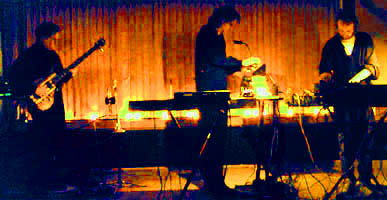 Wally Jericho helped us launch the Drone Cycle in an evening of improvisations around the note C.
Knowing Wally's abilities on trumpet, bass, minidisks, loops and treatments, his good nature and his feel for ambient music meant we had a high confidence level for the night ahead. Wally had retuned his bass to all Cs and Gs which lead to some extra low bass drones and lovely harmonics. He told me later that he left the bass tuned that way for months after the show as he enjoyed the new possibilities.
I had prepared some subway minidisk recordings the week before the performance but Wally beat me to the punch with some of his own, fitting the soundscape so perfectly that I had to leave mine for another day. My favourite section of the night evolved from trumpet loops which Wally kicked up to double-speed in his Boomerang looper, floating over Nord MicroModular filter sweeps from Jamie and some loops of my own - processed through my Nord Modular synth. ~ Scott M2
February 22nd, 2000 ~ RETURN OF THE LIVING DRONES ~ C#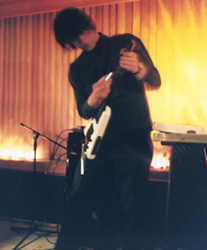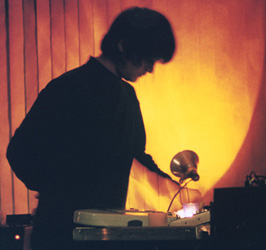 February's drone was C# and our special guest was Kurt Swinghammer.
Kurt is well known around Toronto as a visual artist (murals, paintings, CD covers, etc...), a unique pop singer (Vostok 6 is his latest CD), a guitar ace (Sarah Slean and Ani DiFranco are two recent gigs) or a video art director (Maestro Fresh Wes, Colin James, etc...) but few would suspect he's also a creative electronic musician/experimentalist with a wicked arsenal of devices and a good feel for ambient.
I've worked with Kurt on a number of musical projects, however, and knew he would be an excellent ally in our attack on C#. This night he brought along his new Steinberger guitar, Omnichord, Moogerfoogers and a variety of other processors and loopers. The night started simply and beautifully and seemed to get darker and more chaotic as it evolved. Highlights for me were sections where Kurt employed slide or E-bow on his guitar and some strange computer data noises coaxed from his Omnichord. ~ Scott M2
March 14th, 2000 ~ VALLEY OF THE DRONES ~ D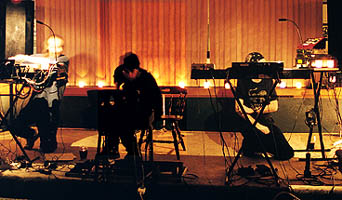 Onwards to D with our next guest Michael Rockwood on guitar, loops and effects.
I had once played with Michael a year before - at my first excursion with Planet Of The Loops (you can find that story here) and had experienced his wonderful sense for space. Talking with him after that show, I also learned of his deep appreciation for David Toop's book "Ocean Of Sound" and his interest in experimental musics.
After confirming his participation in the Drone Cycle for March 14th, he invited dreamSTATE to open for his band Zoebliss at their CD release party on the 11th, which we accepted. He joined us for the end of our set and thus Jamie and I had a taste of what could happen at our own show.
Michael is such a quiet and unassuming person that I confess we ran over him sonically in our first set with some dark electronic bluster and it wasn't until we opened up texturally in the second set that Michael was able to really shine through. The night ended with some lovely loops from each of us which we let run for about half an hour after the set. This is my favourite memory from that night. ~ Scott M2
~ ~ ~
Photos and notes are planned to appear here later for:
Mark Thibideau aka Sedative ( Crave ) ~ April 18th ~ D#
Eric Hopper ( Sylken ) & Arnold Sprogis~ May 16th ~ E
cheryl o ~ June 13th ~ F
Steven Sauve ( karmafarm ) with CBG visuals ~ July 25th ~ F#
Click on the photo for more images from that night.

Andrew Aldridge ( Planet Of The Loops ) ~ August 22nd ~ G
Richard Underhill ( Astrogroove, Shuffle Demons) ~ September 19th ~ G#
Jakob Thiesen & Stuart Clark ~ October 17th ~ A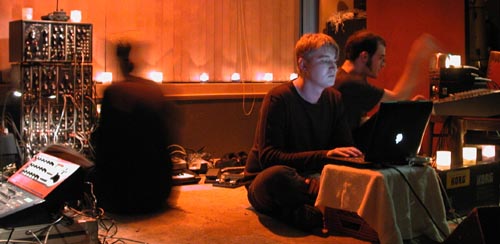 Left to right ~ Scott M2 at the Moog, Jakob Thiesen & Stuart Clark
Matt Thibideau aka Altitude ~ November 14th ~ A#
Joe G ( Styrohead ) ~ December 5th ~ B
...

2000 ~ The Drone Cycle 2000 ~ Ted's Wrecking Yard
1999 ~ Feedback Monitor 3rd Anniversary ~ Planet Of The Loops ~ THE AMBiENT PiNG
1998 ~ World Electronic Music Festival ~ Interference Orange
1997 ~ waveforms at The H5 Project ~ Symptom Hall